Getting Your Garden Ready For Spring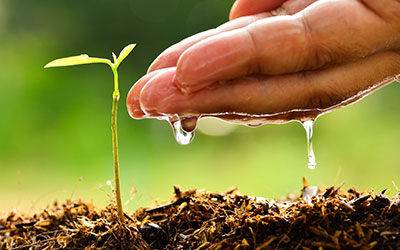 It's springtime, which means your garden is ready to recover from the winter conditions. Dust off your gardening tools, visit the plant nursery, and use the tips we've included in this article to get your garden back in tip top shape!
Gardening Checklist For Spring
Below are a few simple tips on how to put the spring back in your garden's step:
Clean –

The first thing on your list should be cleaning out your garden. Clear out any leaves or debris that may have accumulated, and makes sure to pull any weeds that have already cropped up.

Add New Soil –

After the harsh winter conditions, your soil is probably dried out and compacted. Adding some manure or organic compost can add some moisture to the soil. You may also want to consider having your soil tested in order to discover exactly which nutrients it needs.

Trim/Prune –

At this point, any plants that have survived the colder conditions should be trimmed or pruned. Blooming plants should be pruned only after blooming. This will ensure you don't trim out any future flowers during pruning.

Plant –

Once all the work has been done, it's time for the fun part! We recommend planting perennials over annuals. This is because perennials will return each year for up to five years and are much more likely to survive the cold months than annuals. Perennials may cost a bit more up front, but you won't need to purchase them as often. Some great spring plants include:

Tulips

Lilacs

Pansies

Snapdragons

Redbuds

Vegetables

Fertilize –

Once your new plants have been placed, make sure to add fertilizer and water your plants regularly to keep them looking beautiful and healthy.
We love the outdoors and the many activities that can brighten our lives. If you have any dental concerns or simply wish to chat with Dr. Raisdana with Auburn Family Dental, please contact our Wichita, KS dental office today. And if you have any gardening tips of your own, we'd love to hear them!