Healthier Options For Your Easter Basket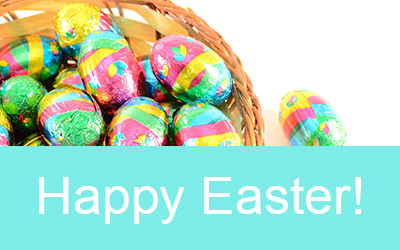 We all know that the Easter Bunny loves filling baskets with yummy, sugary treats. We also know that sugar really isn't great for us, which means this holiday is full of temptations! Here at Auburn Family Dental, we want our patients to be healthy (and have strong, healthy teeth), but we also don't want you to feel like you're missing out.
Easter Candy Ranking
Below are a few of the most popular kinds of Easter candy, ranked on a health scale from worst to best:
Jellybeans & Marshmallow Peeps – These candies may be fat-free, but they're made mostly of sugar and not much else. They'll wreak havoc on your blood sugar and your teeth. We recommend staying away from these two!
Milk & White Chocolate – Milk chocolate and white chocolate are high in both fat and calories, and they have no health benefits. There are plenty of other great options out there.
Reese's Peanut Butter Eggs – While not great for you, if you enjoy peanut butter and chocolate, these single serving eggs are your best option. At 170 calories per egg, it's ok to indulge in one every now and then!
Cadbury Crème Eggs – Single serving Cadbury eggs are 150 calories per egg. They're also rich and delicious, meaning you can satisfy that sweet tooth without overdoing it on sugar.
Dark Chocolate – High quality dark chocolate is the healthiest candy you can fill your baskets with this year. Chocolate melts away quickly, meaning that the sugar won't have time to linger on the teeth and cause cavities. In addition, dark chocolate contains heart-healthy polyphenols that milk chocolate and white chocolate lack.
From all of us here at Auburn Family Dental, please have a healthy & happy Easter holiday! To schedule an appointment for a post-holiday cleaning and exam, please contact our Wichita, KS family dental office today.